Hino J05E-TP 4 cylinder, 5.1L turbo diesel
Max. HP: 210 hp @ 2,500 rpm
Max. Torque: 440 lb-ft. @ 1,500 rpm
All steel, welded cab construction
Heated, remote control exterior mirrors
Chrome Grille
Halogen composite type headlamps
Aerodynamic design
Outstanding panoramic view, slim pillar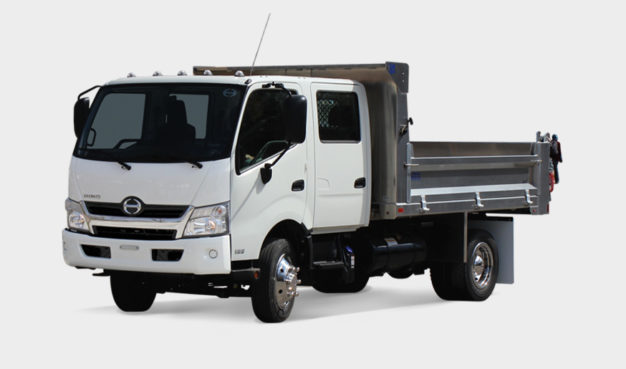 EXPERIENCE THE CAB-OVER ADVANTAGE
SIZED FOR YOUR CREW
You might be building a house in Whitehorse or resurfacing a Lethbridge side street. The Hino 195 crew cab is perfect for getting your team as well as your tools and freight to the site on time, comfortably and reliably, job after job. You get heft at no penalty to without sacrificing maneuverability. The Hino 195 crew cab four-door, seven-person cab comes with an impressive list of standard features including the driver's magnetic suspension seat unique in the industry that can accommodate drivers up to 6'6" tall!
Hino 195 Crew Cab
Standard Features
Air conditioning
Tilt & telescopic steering column with lock
Power windows
Power door locks with keyless entry
Power and heated outer rearview mirrors
Convex mirror (2)
Driver's seat ‐ high‐back seat with magnetic suspension
Passenger seat ‐ 2‐person high‐back bench seat
Rear seat ‐ foldaway, 4‐person bench seat
Cruise control
Exhaust brake
Glow plug cold weather starting aid
1000W/120V engine block heater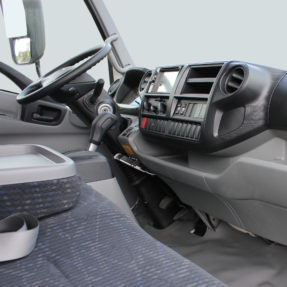 Comfort Up Front
Drivers love the Hino 195 full-featured cab that includes a unique magnetic-suspension driver's seat, a tilt-and-telescoping steering wheel, cruise control and air conditioning.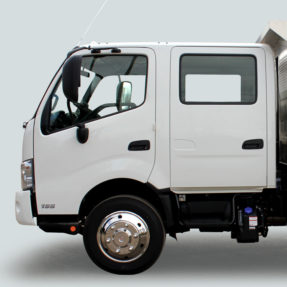 Room and Power to Spare
The four-door, seven-person crew cab is powered by Hino's 5.1-litre diesel engine producing 210 horsepower and 440 lb.-ft. of torque.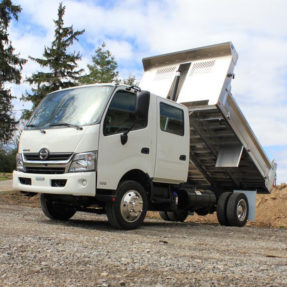 Heavy Lifting
The Hino 195 crew cab is built on a 19,500 GVWR chassis giving it a heavy weight advantage in the crew cab segment. This gives Hino a definitive payload advantage.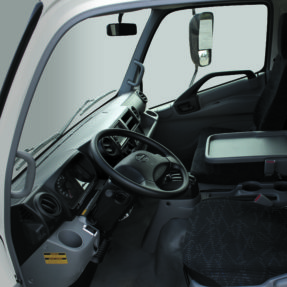 Clearly Visible
The cab-over design, narrow A-pillars and the design of the side view door mirrors contributes to enhance the driver's line of sight. The larger windshield including larger side windows equals superior visibility.
Quality
-
The Most Important Part
Available Customization
Manufactured in Woodstock, Ontario - Serviced across Canada.
Hold your own with a Hino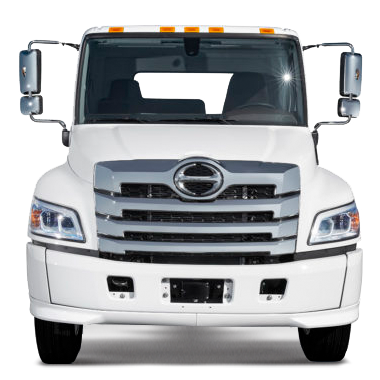 Medium Duty Conventionals
Medium Duty Conventionals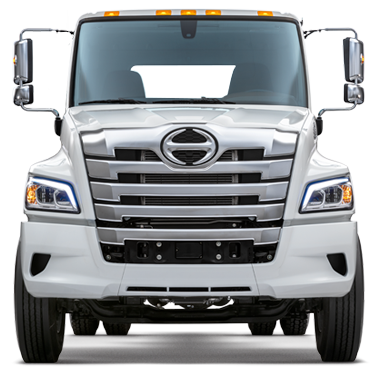 Heavy Duty Conventionals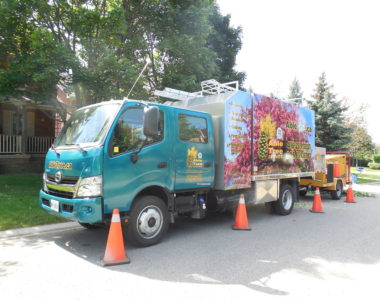 "Our new Hino has the capacity to hold all of our crew and equipment, we're saving time and money."
Able Tree Service Inc.,
Brooklin, ON
Hino 195C
Compare Trucks
Column one has the truck specs, other columns show the truck type and truck spec values. Clicking the buttons in the second row, with the heading Choose your variation, will cause table data to change.
| | |
| --- | --- |
| | |
| Choose your variation | |
| {{specification.label}} | {{show_truck_specification(truck, specification)}} |
| | |